Registered for 24 children/youths in Residential Care.

Registered as a Place of Safety for emergency placements.

Children are placed in care of Child-and Youth Care Centre by legal Court order.

Children aged 2-18 years are included.

2 Family Houses for accommodation (House of Mercy, House of Grace).

All Basic Needs provided for whilst in our residential care.

Care is free of charge.
**Funded by Department of Social Development; Kindermissionswerk.
Definition of Child and Youth Care/Residential Care:
Residential care refers to long-term care given to adults or children who stay in a residential setting rather than in their own home or family home.
Children are removed, by government action, from their homes due to abuse or neglect.  In most situations the child is removed from the home only as a last resort; for their own safety and well-being or the safety of others. This type of out-of-home care is for Orphans and Vulnerable children.  Orphaned, abandoned or high risk children/young people may live in residential facilities established as home environments. Children/Young people in this care are subject to government departmental evaluations that include: progressions within health/education/social presentation and –relationships/family networks and re-unification etc.  Care is thus aimed at development of all these aspects.
Goals of Child and Youth Care: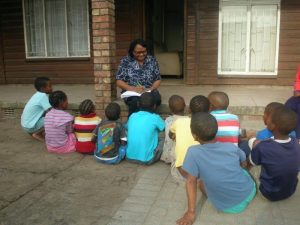 To build Resilience in children's lives.
To care for children holistically towards optimal health in all spheres of life.
To ensure optimal functional status, independence and adaptation to challenges of daily living.
To prevent secondary complications due to poor social circumstances.
To improve the quality of life of each child admitted to the Centre.
To re-unify families as/when possible.
To ultimately ensure that these children become contributing members of society.
Services and Guiding Principles:
Developmental- and Rehabilitative Care involving in-depth Assessments and structured Individual Care Plans.  Interventions are provided by a Multi-disciplinary Team and include the following areas of development:
Residential Care: Physical; Medical; Education; All Basic Needs/Shelter.
Developmental Programs: Family Preservation; Rights of Children; Life Skills; Independent Living; Victim Empowerment.

Therapeutic Programs: Psycho-Social- and Emotional Support; Counselling; Development.

Recreational Programs: Sport; Singing; Dancing
The services are Strength-based; thus identifying every child's strengths and building on those to develop Self Esteem and –Confidence.

Typical Admission/Patient:
Abused/Neglected. (emotional and physical)
Orphaned; or when parent/caregiver is unfit to care for a child due to circumstances/illness/ diseases/disability and no alternative care is available in child's immediate environment.
Child suffering and not holistically healthy due to unfit home/social circumstances.
Child in need of alternative support and interventions; where the home environment does not provide this and is in actual fact impacting negatively on child's behaviour, development and physical-/emotional-/psycho-social status.

Staff Members: 

1 Manager/Social Worker
1 Educational Coordinator
2 Child and Youth Care Workers (Live-in)
2 Child and Youth Care Assistants
1 Driver
1 Occupational Therapy Technician
1 Spiritual worker
1 Psychologist
Residential Care:
Shelter (Basic needs, Housekeeping, Repairs and Maintenance, Cleaning service)
Food (daily nutritional support, Kitchen)
Toiletries and Personal hygiene needs
Education (school, creche, needs such as clothes, stationary etc.)
Extra-curricular activities
Clothing and Shoes
Special events and Recreation (Matric farewells, School tours/outings etc.)
Transport (fuel, vehicles etc.)
Laundry (daily)
Psycho-social- and Emotional Care
Life Skills development
Independent Living program
Spiritual Care
Remedial Teaching and Academic Support
Occupational Therapy
Early Intervention; Early School Development
Family Support, –Empowerment and –Re-unification