Welcome to Bethesda
The Vision

of BETHESDA is to provide Holistic, Compassionate and Sustainable care 
that improves Quality of Life.
The Mission of the organization is:
In rendering our medical and social services we believe that God is our source;

Encourage staff to function within organizational value system of Honour, Integrity, Compassion, Belief, Respect, Transparency, Co-responsibility, Trust and Loyalty; 

Operate an Intermediate Care Facility that provides holistic interventions, integrated support and relief; rendering Palliative-, Post-Acute- and Rehabilitation care to adults, children and their families/caregivers;
Provide Home Community Based Care Services that supports primary health care by visiting community members in their own homes to do Household Health Screenings; and to promote Comprehensive Health, Wellness and Self-Management;
Operate a Child and Youth Care Residential Centre with residential-, therapeutic- and development interventions; to care for and empower vulnerable children and their families/caregivers;

Develop local and International partnerships to ensure Sustainability, this includes an active internal and external Fundraising- and Liaison strategy. 
Values: Honour, Integrity, Compassion, Respect, Transparency, Co-responsibility, Belief, Loyalty, Trust
Bethesda was established in 2000. We are a NPO (No: 020-521-NPO) and a Section 18 (A) company.
We have:
133 staff members.
A Board of Directors that oversees the Organization, decisions, governance and planning.
A CEO and Management Committee that are responsible for the day-to-day operations of the Organization.
We have a 4-star accreditation from the Council for Health Service Accreditation of Southern Africa (COHSASA) with the mentoring and guidance of the Hospice and Palliative Care Association (HPCA). This accreditation is awarded for Patient Care and Governance.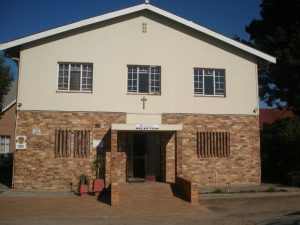 We have more than 6000 patient/community member contacts on a monthly basis.
We do more than 1800 visits a month.
More than 40% of our interventions are towards

children

.
More than

30%

of our beneficiaries are

infected

by

HIV/AIDS/TB

.
More than 60% of our beneficiaries are

affected

by

HIV/AIDS/TB

.
More than 50% of our beneficiaries have

cancer/life-limiting- or life-threatening illnesses/diseases

of lifestyle.
We have a Holistic Care approach: medical, rehabilitation, developmental, spiritual, psycho-social, family support.
We have 3 MAIN divisions:
| | |
| --- | --- |
| | The Intermediate Care Facility has 36 beds (including 8 children's beds) and delivers in-patient Palliative-, Sub-Acute- and Rehabilitation/Restorative Care. |
| | Home Community Based Care visits the patients in their own homes and does Health Screenings, Referrals to Primary Health Care, Health Prevention and Promotion of Wellness and Self-Management. |
| | The Child and Youth Care Centre delivers Development- and Rehabilitation services to a maximum of 24 children in Residential Care. |
Support Services: Kitchen (Outsourced), Laundry (Outsourced), Maintenance, Transport, Security and Admin/Finance.
Wheelchair repair workshop that repairs and services government-issued wheelchairs.
Development Program for 18 months to 6 year old that is called the Wikkelwurms.
Integrated School Health workers in George.
We care for our patients with-out cost to the patient/their families. Our total operational budget is more than R12,070 million per year. Even though we do receive some funding from the government, we cannot survive on that alone. We have an active Fundraising Initiative and Projects Division that raise funds/donations/CSI Allocations from the general public, corporate donors and other funding partners. We have a comprehensive Needs List that indicates urgent needs per division and thus guides Fundraising and Proposed Projects.
We encourage people to remember Bethesda in their wills.
Bethesda Intermediate Care Facility · Home Community Based Care Program · Child and Youth Care Centre
22 Beer Street, Rosemoor, George 6529 · P.O. Box 2586, George, 6530
Tel: +2744–875 8088 · Fax: +2744-875 9963